Taman Dhika Cinere
About
PT. Adhi Persada Properti selaku anak perusahaan PT. Adhi Karya (Persero), Tbk meluncurkan kompleks hunian baru di selatan Jakarta. Berlokasi di Jl. Lereng Indah, Kelurahan Pondok Cabe Udik, Kec. Pamulang -Tangerang Selatan, kami menciptakan perumahan bernuansa hijau alami dengan kesejukan yang akan tercipta keharmonisan.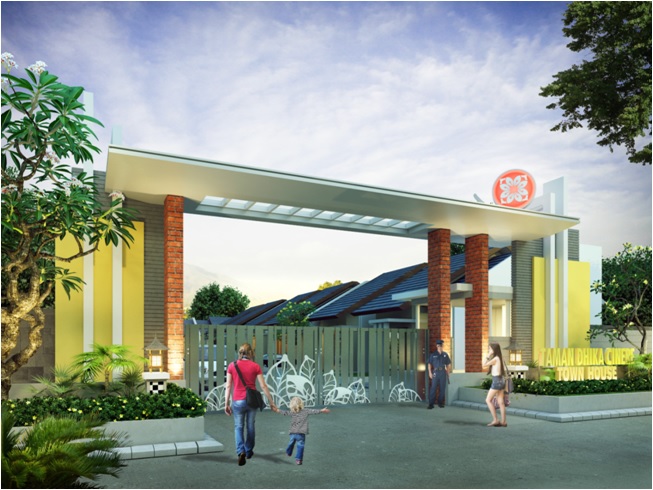 Dibangun di dalam area cluster dengan design eksklusif dan keamanan terjamin, THE TAMAN DHIKA CINERE akan memenuhi lebih dari sekedar kebutuhan akan hunian ideal yang dapat menciptakan kehidupan sejahtera sekaligus memiliki prospek dan nilai investasi yang menjanjikan.
Dengan luas area 1.3 Ha, THE TAMAN DHIKA CINERE menawarkan rumah Type 40, 50,70 dan 85. Konsep design kawasan yang homy, asri,hijau, nyaman dan tenang dengan nuansa Bali, jauh dari hiruk pikuk kebisingan kota.
Kawasan hijau sudah terbentuk, asri (Banyak Pepohonan) dan dekat dengan berbagai fasilitas : Sekolah, mall, area komersial, rumah sakit, Akses pintu Tol Cijago-Antasari ,dsb.
Dikembangkan oleh developer PT Adhi Persada Properti (anak usaha dari BUMN PT Adhi Karya (Persero), Tbk. Sertifikat (SHGB) sudah pecah per kavling.
KEUNGGULAN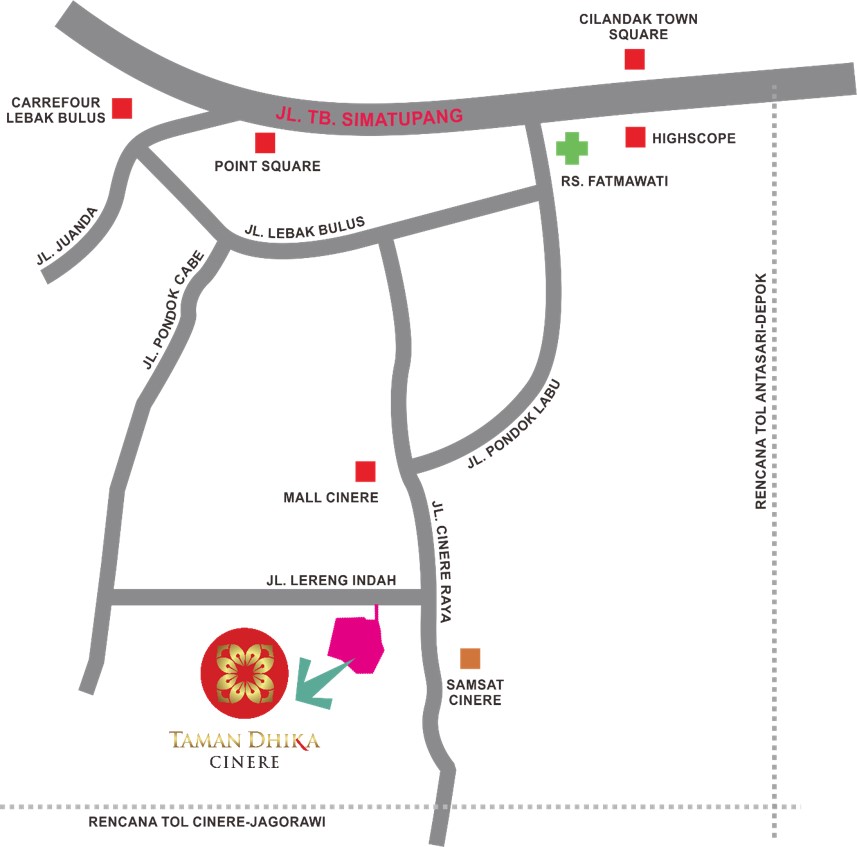 Hanya 20 menit ke Cilandak Town Square

Hanya 20 menit ke Perkantoran TB Simatupang

Hanya 20 menit ke Halte Transjakarta Lebak Bulus

Dekat dengan Sekolah, Rumah Sakit, Mall dan pusat komersial

Property Features
Attic
Wine Cellar
Gym
Lake View
Separate Shower
Skylights
Golf Course
Pet Allowed
Gas Detector
Basketball Court
Fireplace
Solar Heat
Wet Bar
Stone Surface
Health Club
Office/Den
Balcony
Trash Compactors
Pool
Storm Windows
Remodeled
Open Entertaining Kitchen
Backyard
Laundry
Self Storage
Panic Button
Video Phone
Storage Room
Wet & Dry Garbage
Ball Room & Pre Function
Backup Genset For 1 AC & 1 Lamp In Every Unit
Cafe Resto
Convenience Store
TV Cable
24 Hours Security With CCTV & Access Card
One gate access
Green park
Children playground
Jogging track & sport facilities
Smart key access
5 meters floor to floor height
Indoor sports club
Lifestyle supermarket
High speed elevator
Water treatment plant
Fire proof/rescue elevator
48 hrs emergency backup power
Child care
Thematic park
Study hall
Clinic
Atm Center
Cinema Theater
Sauna room
Retail
Function hall
Virtual office
Digital living
Sky garden
Sky Pool
Beach and surf club
Family Zone
All day Dining
Spa
Gym and Yoga
Sky Bar
Lounge
Wedding Lawn
Meeting Room
Nest Playground
Co-Working Space
Skateboard Court
Fitness Outdoor
River Activity
Smart Home System
Underground Utilities
Contact Our Agents
Find This Property on Maps